From strength to strength since our beginnings, rooted in quality and consistency.
As a family run business, we've been creating fresh and natural stocks and sauces in the heart of North Yorkshire since 2007.

We pride ourselves on only using the finest ingredients and traditional culinary principles to make restaurant quality products of the highest standard. Our foundations are solidly rooted in high quality standards and maintaining consistency across all our products. From slow roasting the bones to double passing our stock, our products are created in exactly the same way as a chef would, with no flavour enhancers or life extending ingredients. It's why you'll find TRUEfoods products in some of Britain's finest restaurant and home kitchens.

The TRUEfoods retail brand sits on the shelves of selected retailers. Our wholesale stock pouches are used in kitchens throughout the UK, Ireland, Europe, and much further afield. Many kitchens awarded with multi-Michelin stars, independent restaurants, contract caterers, and businesses within the leisure sectors also use TRUEfoods stocks.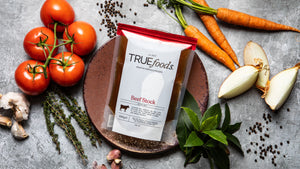 Stocks
As chefs, our objective is to produce fresh, natural stock using classic culinary principles on a large scale without compromising on quality or process. Through many years of research we have adapted classic techniques to ensure we produce the very best products.

We have strict ingredient specifications for all our recipes, along with clearly defined temperatures for roasting bones and cooking times for the first cook and secondary reduction period. All our stocks are passed through double muslin twice, producing a superior product which is used in top restaurants worldwide.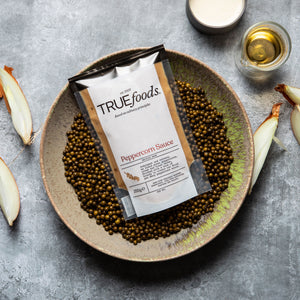 Sauces
For the passionate home cook, you can now purchase our full range of stocks and sauces in supermarkets such as Booths, Wholefoods and many independent food outlets nationwide. The same uncompromising and exacting standards go into producing these products for you to enjoy at home.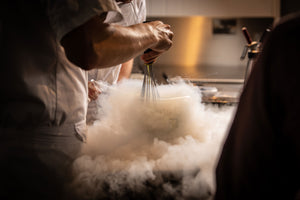 Development & Innovation
We continually strive to improve and push our culinary boundaries in the pursuit of perfection in all we produce. To enable us to do this we have created a state of the art research and development kitchen, where we create and deliver unique products that inspire and delight our fantastic customer base, including our popular 'Beef Stock Beer' and 'Chicken Stock Lager'.

We are firmly committed to ensuring that the TRUEfoods business is a sustainable one. We source water direct from a fresh, clean, local spring accessed via our site, use solar energy to power our kitchen, and have a burgeoning apiary, kitchen garden and chicken coop which provide many ingredients used in our products.
Sustainability & Welfare
We select all of our ingredients to ensure they're of the highest quality. Higher welfare bones, carefully sourced UK vegetables and filtered spring water drawn from natural source - our product use pure, natural ingredients exclusively.

All of our packaging is either recyclable or made from recycled materials. Sustainability is of the utmost importance to us and we strive to better ourselves when and where we can.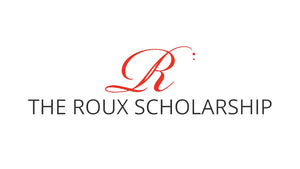 The Roux Scholarship
TRUEfoods are proud sponsors of The Roux Scholarship. The scholarship has enabled a new generation of British chefs to gain the highest quality training possible, in some of the worlds most renowned restaurants. Not only has the competition become arguably the most prestigious in the industry, but its devotion to championing young chefs, developing their skills and creating opportunities has lead to many of their scholars reaching the highest level and being awarded Michelin stars.

We follow a similar mantra to The Roux Scholarship in helping young determined chefs reach their potential focusing on their continued education of techniques, ingredients and food innovation.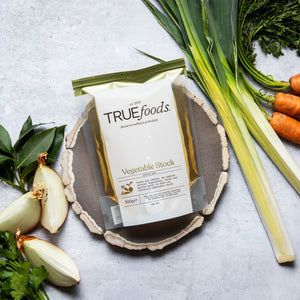 Become a Stockist
If you would like to become a retail stockist of TRUEfood products it would be great to hear from you.